Dr. Anthony Ramirez

A Trusted Dentist Serving Brooklyn Since 1983
Meet Dr. Ramirez
Dr. Anthony Ramirez, DDS, MAGD is a Brooklyn-based dentist with extensive experience in both cosmetic and implant dentistry. His dual areas of expertise allow him to transform the look, form, and function of New Yorkers' teeth.
His successful 40-year career in dentistry has been fueled by his drive to provide the very best treatment. He achieves this with the use of cutting-edge technologies and the support of an expert team of dental professionals and laboratory technologists.
See Dr. Ramirez's Results
Precise treatment planning is extremely important in providing the outstanding results that Dr. Ramirez's patients have come to expect. He deeply involves his patients in the planning of their procedures so that they can create their dream smiles. See the results of this teamwork below.

Full Mouth Reconstruction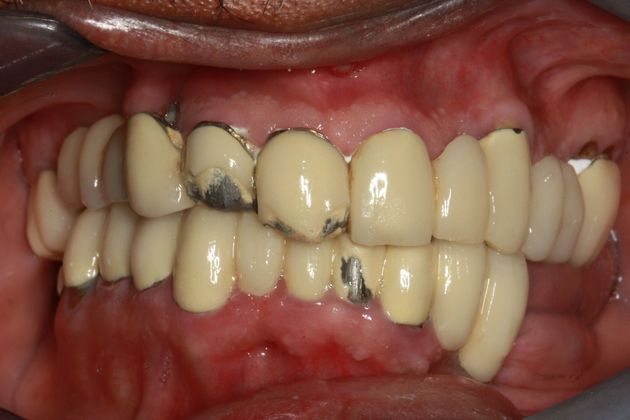 Brooklyn Chooses Our Dentist
"The most amazing dentist in town."
the most amazing Dentist in town! & hygienist!! always do the right thing!
View on Google
DR. RAMIREZ is the best hands down ............he is a dentist a friend that I will cherish for the rest of my life
View on Google
Our Dentist Has Earned
Many Prestigious Affiliations
Dr. Ramirez Studied
With the Best
Dr. Ramirez earned his doctor of dental surgery from the prestigious New York University College of Dentistry. His alma mater is the largest and third-oldest dental school in America.
"Together with my highly skilled staff, we combine the art and science of dentistry and transform your smile improving the quality of your life. Our commitment to excellence is what sets us apart from other dental practices.

Our goal for each and every patient is to develop a lifelong strategy for oral and dental health. We are anything but ordinary, and we can transform your smile and improve the quality of your life." Dr. Anthony Ramirez
"They really are the best."
Brooklyn Relies on Dr. Ramirez
This was my first visit to Dr. Ramirez. I can only say that this was an incredibly great experience... it was as though I knew them my entire life... Dr. Ramirez was so friendly and he gave me a thorough check up and gave me a full analysis of my teeth. Great doctor! Then upon leaving, Christine explained my insurance and billing etc. We chatted for a while, again like we were great friends. I thank you so much for raising the standards of my dental care. I look forward to returning again and again. If you need a dentist, this is the ONLY place to go in Bay Ridge.
View on Google
My experience at Dr. Ramirez' office was an absolute pleasure, which I realize is not what many expect when they picture a trip to the dentist's office. But Dr. Ramirez has an incredible team here, and everyone was kind, welcoming, and extremely knowledgeable. Though I was a bit nervous, the staff was patient and accommodating, and made me feel relaxed and at ease - they really are the best. Dr. Ramirez made sure that I was as comfortable as could be, explained everything clearly, and completed my procedure smoothly and painlessly. Thank you, Dr. Ramirez and team, for giving me my smile back.
View on Google